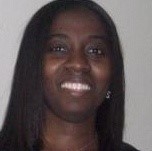 Dr
Regina Edziyie
Department

Fisheries and Watershed Management
Email
Office-location

Faculty of Renewable Natural Resources, Room 121
Research-areas
Lecturer
Phone:    Cellular (+233) 572 921 090                                  
Email:  edziyie@yahoo.co.uk;reedziyie.frnr@knust.edu.gh 
Department: Fisheries and Watershed Management
Office: Faculty of Renewable Natural Resources, Room 121
Address: Faculty of Renewable Natural Resources
Kwame Nkrumah University of Science and Technology
Kumasi, Ghana

Education
BSc Natural Resource Mgt - Major: Fisheries (KNUST, Kumasi)
MS Aquaculture/Fisheries (University of Arkansas at Pine Bluff, USA)
MS Applied Geography- Water Resources (University of North Texas, USA)
PhD Environmental Sciences- Aquatic Ecology & Toxicology (UNT, TX)
Rresearch Interests
Pond Water Quality and Plankton Ecology, Aquatic Ecology
Aquatic Toxicology, Culture of 'new' Aquaculture Species,
Environmental Science and Education, Applied Geography.
Major Responsibilities
Teaching
Currently Teaching
FSA 256: Aquatic Toxicology
FRM 356: Experimental Design and Data Analysis
FSA 357: Fisheries Ecology
FSA 354: Fisheries Management
Previously Taught
Introduction to Fisheries and Aquaculture
Environmental Science
Thesis/ Dissertation
Supervision of student projects (BSc., MSc. and PhD)
Internal Examiner - Department of Fisheries and Watershed Management, KNUST
Research
Projects
Home Country PI, Ghana USAID/AquaFish Innovation lab proposal- "Enhancing the nutritional value of tilapia for human health".
Co-Investigator: BSU Outreach for Sustainable Agriculture & Aquatic Products in Ghana
Co-Investigator: DANIDA: Sustainable Fish feed development in Ghana (DFC file no. 13-P01-GHA, April 2014 – March 2017)
Publications
Edziyie, R. E. (2000). Some aspects of the reproductive biology of Chrysichthys species from ponds in Ashanti Region, Ghana. BSc. Thesis, Kwame Nkrumah University of Science and Technology, Ghana.
Edziyie, R. (2004). The Effect of Propanil on Five Pond Plankton Communities. Doctoral dissertation, MS Thesis, University of Arkansas at Pine Bluff, Pine Bluff, AR, USA.
Neal, J.W., S. Shreay, N.E. Heitman, M.C. Leao, K. R. Winningham, R.E. Edziyie and C. Jackson. 2004.  Hybrid striped bass in urban ponds: a pilot study on angler demographics, attitudes and fishing success. Proc. Annual Conf. Southeast. Assoc., Fish & Wildlife Agencies 58: 130-138.
Coogan, M. A., Edziyie, R.E., La Point, T. W. and Venables, B.J.2007. Algal bioaccumulation of  triclocarban, triclosan and methyl triclosan in a North Texas Wastewater Treatment Plant. Chemosphere, 67(10):1911-1918. 
Edziyie, R., Perschbacher, P. W., & Ludwig, G. M. (2007, February). Phytoplankton succession in sunshine bass fry ponds and the effect of Aquashade®. In Book of Abstracts Aquaculture America (p. 273).                               
Perschbacher, P. U., Ludwig, G., & Edziyie, R. U. (2007, February). Effects of drift from 39 aerially-applied herbicides on production pond plankton and water quality. In Book of Abstracts Aquaculture America (p. 70).  
Perschbacher, P. W., G.M. Ludwig and Edziyie, R. 2008. Effects of atrazine drift on production pond plankton and water quality using experimental mesocosms. Journal of World Aquaculture Society, 39(1):126-130
Ludwig, G.M., Perschbacher, P. W., and Edziyie, R. 2010. The effect of the dye Aquashade on water quality, phytoplankton, zooplankton, and sunshine bass fingerling production in fertilized culture ponds. Journal of World Aquaculture Society,41(S1):40-48
Perschabcher, P. and R. Edziyie, G. M. Ludwig. 2 012. Row Crop Herbicide Drift Effects on water bodies and aquaculture. In Herbicides/ Book 3. Ed. M.N. A. E. Hassanem. Intech Publishers.
Meetings/Conferences
Over 20 oral/poster presentations at American and World Aquaculture conferences, Association of American Geographers Association, Sigma Xi meeting,  Regional and National Society of Environmental Toxicology and Chemistry meetings, American Fisheries meeting etc
Extension/Outreach
Moderator, resource person, attendee, Women in Aquaculture, AquaFish Collaborative Research Support Program,  Workshop Programme  8-9th January 2013, KNUST, Kumasi & Akosombo, Ghana
Co-organizer and attendee, Research Experiences for Teachers (RET) Workshop, National Science Foundation RET site (UNT), 5th November, 2011. UNT, Denton, Texas.
Participant, Building Stronger Universities,  GEP Strategizing Outreach for Sustainable Agriculture and Aquatic Products in Ghana, 25th March, 2013, International Centre for Innovative Learning, Kumasi, Ghana
Guest Speaker
Arkansas State University, May 07, 2004. Effect of propanil on water quality & plankton in aquaculture ponds.
University of North Texas, Denton; Sediment Toxicology Class, October 29, 2009. Fate, transport and effects of triclosan and triclocarban in aquatic ecosystems.
University of Arkansas at Pine Bluff. September 06, 2011. Antimicrobials in waste-water receiving streams.
Member
Organizing Committee Regional SETAC meeting, 2005.
Student Activities Committee US Aquaculture Society, 2006.
Search Committee for GIS Faculty Department of Geography, UNT.